How to Calculate Labor Saving Products into Roofing Estimates
Versico has rolled out a ton of labor-saving products over the past few years including CAV-GRIP 3V Low-VOC Adhesive and Primer, CAV-GRIP PVC, RapidLock (RL) Roofing Systems, Quick-Applied EPDM and TPO Membranes, and APEEL Protective Film; to name a few.

A common question that arises when it comes to these labor-saving products is how do you turn the advertised time savings into tangible data to use for planning and estimating purposes? Here are some recommendations on how to get started:

Step 1: Have your roofing crew watch videos on the labor-saving product that we may have on our website. These videos can be viewed on Versico's Video Hub. This will ensure you are installing the product correctly and based on the best practices we've established.

Step 2: Request a demo for you and your crew from your local Versico Sales Rep. Have them show you how to use the product and give you and your crew an opportunity for some hands-on experience.

Step 3: Find a small job or partial job to try the labor-saving product on and calculate the time and labor savings compared to how long it would typically take to use an alternate product.

Step 4: Get feedback from the crew and talk to the estimator about incorporating based on the below labor savings calculation model. We've used standard roller-applied bonding adhesive versus Versico's CAV-GRIP 3V Low-VOC Adhesive as an example: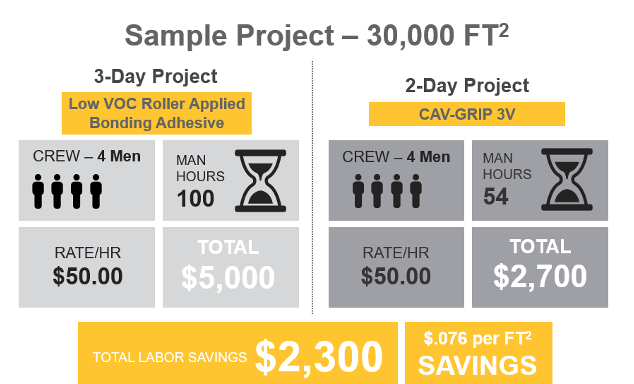 Note: it may take a few jobs to get the hang of it or realize the full labor-saving potential of the product. Gather feedback from several installs and calculate the savings based on this information.
For more information on Versico's labor savers, please visit the
labor saver page
on our website or contact your Versico Independent Sales Representative.